Explore 4,000 Islands
Duration: 6 Days / 5 Nights
Code: IPK-05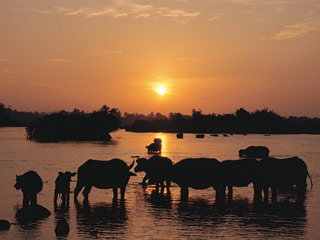 Day 1: Pakse – Watphou - Champassak
Arrive in Pakse by land from Chongmek Lao/Thai border or at Pakse airport from Vientiane or Siemreap, Cambodia. Transfer to pier for a boat trip to Champasack to visit Oum Mong on the Mekong, then drive to see pre-Angkor Wat Phou from the Khmer period. Overnight in Champassack.
Day 2: Champassak- Muang Khoung
Cross the Mekong River and drive south to the Khong Islands, visiting Khiet Ngong for elephant riding. Overnight in Muangkhong.
Day 3: Muang Khong
Excursion by boat to Ban Khone, visiting Don Det fishing village, old French port and the only locomotive in Laos, plus the wonderful Somphamit / Liphi waterfalls. Then by boat to Ban Phiengdi. Drive back to Muangkhong to overnight.
Day 4: Muang Khong - Tadlo
Drive to the largest waterfall in S-E Asia at Khonphapheng, then to Tadlo through the Bolaven Plateau with stops to visit local village of Ban Houey, Houn Katou tribe, Thateng for Nge and Alak tribes. Overnight in Tadlo.
Day 5: Tadlo - Pakse
Visit tea and coffee plantations at Paksong and the Tadfane waterfall. Overnight in Pakse.
Day 6: Pakse - Departure
Transfer to Chongmek on the Lao/Thai border or Pakse airport for departure to next destination.
Note - Enter/departure by land or water between Laos and Cambodia is now possible at Ban Veunkham-Struntreng if holding a current visa, but it is not possible to obtain a visa on arrival.