Inter Lao Tourism – who are we?
As the premier tour operator in Laos since 1989, Inter Lao Tourism operates mostly in Laos, has Lao ownership and all our staff are Lao with detailed local knowledge; we know our country and can offer you the best of what our country has to offer. Our experienced Lao guides will be honored to show you their country and introduce and explain to you the mystique and secrets of our fascinating culture. You can visit mysterious Wats and caves, enjoy the scenery, chat to friendly local people….
We personally select and inspect all the hotels, restaurants and other services we use throughout Laos to ensure that they meet our high standards.
We have our own air-conditioned vehicles and our multi-language guides know their country very well. As we specialise in travel around Laos, we can guarantee professionalism and an interesting cultural experience. We offer a range of set tours – from the north to the south … and would also be pleased to tailor a tour to suit your specific requirements.
Inter Lao Tourism invests in Laos' infrastructure and in our personnel to offer our customers the very best sights, sounds and services our country has to offer.
Known as the "Land of a Million Elephants", Laos offers you the opportunity to travel in luxury or to get off the beaten track for some interesting eco- or wilderness-tours.
If you want to experience authentic Laos…
"We know Laos best" - Our local guides can show you their country, including more than just what the guide books tell you.
If you value your time and don't want to search for out of the way tourist sights, or hunt for transport or a suitable hotel…
Our experienced Lao staff can show you how, and make all your travel arrangements so that your Lao experience runs smoothly.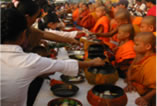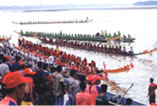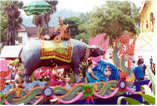 Inter Lao Tourism offers you a wide choice of set tours – or we can tailor a tour to suit your specific requirements, for one person or a group. We can organize your entire Lao experience, or we can just book certain aspects - our aim is to ensure that your visit to our country runs smoothly and is enjoyable.
We seek hotels with character and a quality that sets them apart from the hum-drum; we grade the hotels as superior, deluxe, standard or budget. We also offer eco-tourism experiences exploring our remote forests and caves, including village stays in homes where you can experience Lao life as it has been lived for many years.